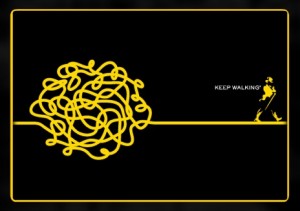 An indictment of the sedentary class, excerpted from an 1862 essay by Henry David Thoreau in The Atlantic…
I think that I cannot preserve my health and spirits, unless I spend four hours a day at least—and it is commonly more than that—sauntering through the woods and over the hills and fields, absolutely free from all worldly engagements. You may safely say, A penny for your thoughts, or a thousand pounds. When sometimes I am reminded that the mechanics and shopkeepers stay in their shops not only all the forenoon, but all the afternoon too, sitting with crossed legs, so many of them—as if the legs were made to sit upon, and not to stand or walk upon—I think that they deserve some credit for not having all committed suicide long ago.
I, who cannot stay in my chamber for a single day without acquiring some rust, and when sometimes I have stolen forth for a walk at the eleventh hour, or four o'clock in the afternoon, too late to redeem the day, when the shades of night were already beginning to be mingled with the daylight, have felt as if I had committed some sin to be atoned for—I confess that I am astonished at the power of endurance, to say nothing of the moral insensibility, of my neighbors who confine themselves to shops and offices the whole day for weeks and months, aye, and years almost together. I know not what manner of stuff they are of, sitting there now at three o'clock in the afternoon, as if it were three o'clock in the morning. Bonaparte may talk of the three-o'clock- in-the-morning courage, but it is nothing to the courage which can sit down cheerfully at this hour in the afternoon over against one's self whom you have known all the morning, to starve out a garrison to whom you are bound by such strong ties of sympathy.