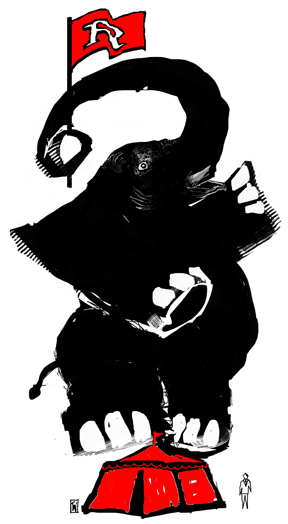 A Nationalist Manifesto
There are too many elephants in the room. During our teens it was understandable, but this country is almost 140 years old. It's time to stop ignoring the obvious. The 21st century might be filled with promise, but not if we don't change course.
As it stands, we are far too dependant on natural resources, and they're far too dependant on us. Our Prime Minister, under a majority mandate, is essentially a dictator. Our immigrants are both our biggest asset and our biggest liability. China is real. So is Afghanistan. We spend nearly $150 billion a year on a crippled healthcare system and throwing more money at the problem will not make it work. Our best and brightest are quick to jump ship. Canada's GDP is 4% of the total global economy, and we're only a footnote in the annals of our time.
People who haven't traveled beyond the Christianized West, Mexico and the Caribbean complain way too much. People who have should complain a lot more. Multiculturalism isn't an identity. Bombardier isn't a success story. Fort McMurry isn't our salvation. We're almost out of power, European hockey is better to watch, and Celine Dion is better off south of the border. The mafia runs our nightclubs. The government runs our liquor. The Angels run our drugs. The banks run everything else.
These aren't difficult concepts to embrace. They're facts, like a friend's addiction to gambling that we somehow choose to ignore. They beg some of the bigger questions facing modern sovereign states. When did we lose our way? Why didn't we see it coming? Where do we go from here? How will the others respond?
Historically, we've been isolated. We've been peripheral. We've been auxiliary and in many ways dependant on the charity and self-interest of our closest trading partners. Our humility is not always a virtue. Peace is not always an option. The true north isn't all that strong, but it certainly is free, and that's a great place to start out the new millennium.
Going forward, we need to be more catalytic, more self-interested, more independant, more willing to attack and more willing to defend. We need to grow into our oversized skin. We are the elephant in the room. We are the next big thing.
It's time to stand up and be heard.