The next wave of web-ready tablets represents a great leap forward in mass communication and may rescue the industry from commercial obsolescence. But any real progress will take genuine collaboration between content providers, aggregators, advertisers, and hardware designers — along with the courage to cannibalize an antiquated 19th century business model and dive head-first into the 21st century…
How Google Can Help Newspapers
Eric Schmidt in the Wall Street Journal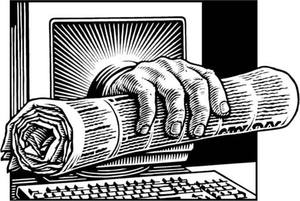 It's the year 2015. The compact device in my hand delivers me the world, one news story at a time. I flip through my favorite papers and magazines, the images as crisp as in print, without a maddening wait for each page to load.
Even better, the device knows who I am, what I like, and what I have already read. So while I get all the news and comment, I also see stories tailored for my interests. I zip through a health story in The Wall Street Journal and a piece about Iraq from Egypt's Al Gomhuria, translated automatically from Arabic to English. I tap my finger on the screen, telling the computer brains underneath it got this suggestion right.
Some of these stories are part of a monthly subscription package. Some, where the free preview sucks me in, cost a few pennies billed to my account. Others are available at no charge, paid for by advertising. But these ads are not static pitches for products I'd never use. Like the news I am reading, the ads are tailored just for me. Advertisers are willing to shell out a lot of money for this targeting.
This is a long way from where we are today. The current technology—in this case the distinguished newspaper you are now reading—may be relatively old, but it is a model of simplicity and speed compared with the online news experience today. I can flip through pages much faster in the physical edition of the Journal than I can on the Web. And every time I return to a site, I am treated as a stranger.
So when I think about the current crisis in the print industry, this is where I begin—a traditional technology struggling to adapt to a new, disruptive world. It is a familiar story: It was the arrival of radio and television that started the decline of newspaper circulation. Afternoon newspapers were the first casualties. Then the advent of 24-hour news transformed what was in the morning papers literally into old news.
Now the Internet has broken down the entire news package with articles read individually, reached from a blog or search engine, and abandoned if there is no good reason to hang around once the story is finished. It's what we have come to call internally the atomic unit of consumption.
Painful as this is to newspapers and magazines, the pressures on their ad revenue from the Internet is causing even greater damage. The choice facing advertisers targeting consumers in San Francisco was once between an ad in the Chronicle or Examiner. Then came Craigslist, making it possible to get local classifieds for free, followed by Ebay and specialist Web sites. Now search engines like Google connect advertisers directly with consumers looking for what they sell.
With dwindling revenue and diminished resources, frustrated newspaper executives are looking for someone to blame. Much of their anger is currently directed at Google, whom many executives view as getting all the benefit from the business relationship without giving much in return. The facts, I believe, suggest otherwise.
Google is a great source of promotion. We send online news publishers a billion clicks a month from Google News and more than three billion extra visits from our other services, such as Web Search and iGoogle. That is 100,000 opportunities a minute to win loyal readers and generate revenue—for free. In terms of copyright, another bone of contention, we only show a headline and a couple of lines from each story. If readers want to read on they have to click through to the newspaper's Web site. (The exception are stories we host through a licensing agreement with news services.) And if they wish, publishers can remove their content from our search index, or from Google News.
The claim that we're making big profits on the back of newspapers also misrepresents the reality. In search, we make our money primarily from advertisements for products. Someone types in digital camera and gets ads for digital cameras. A typical news search—for Afghanistan, say—may generate few if any ads. The revenue generated from the ads shown alongside news search queries is a tiny fraction of our search revenue.
It's understandable to look to find someone else to blame. But as Rupert Murdoch has said, it is complacency caused by past monopolies, not technology, that has been the real threat to the news industry.
We recognize, however, that a crisis for news-gathering is not just a crisis for the newspaper industry. The flow of accurate information, diverse views and proper analysis is critical for a functioning democracy. We also acknowledge that it has been difficult for newspapers to make money from their online content. But just as there is no single cause of the industry's current problems, there is no single solution. We want to work with publishers to help them build bigger audiences, better engage readers, and make more money.
Meeting that challenge will mean using technology to develop new ways to reach readers and keep them engaged for longer, as well as new ways to raise revenue combining free and paid access. I believe it also requires a change of tone in the debate, a recognition that we all have to work together to fulfill the promise of journalism in the digital age.
Google is serious about playing its part. We are already testing, with more than three dozen major partners from the news industry, a service called Google Fast Flip. The theory—which seems to work in practice—is that if we make it easier to read articles, people will read more of them. Our news partners will receive the majority of the revenue generated by the display ads shown beside stories.
Nor is there a choice, as some newspapers seem to think, between charging for access to their online content or keeping links to their articles in Google News and Google Search. They can do both.
This is a start. But together we can go much further toward that fantasy news gadget I outlined at the start. The acceleration in mobile phone sophistication and ownership offers tremendous potential. As more of these phones become connected to the Internet, they are becoming reading devices, delivering stories, business reviews and ads. These phones know where you are and can provide geographically relevant information. There will be more news, more comment, more opportunities for debate in the future, not less.
The best newspapers have always held up a mirror to their communities. Now they can offer a digital place for their readers to congregate and talk. And just as we have seen different models of payment for TV as choice has increased and new providers have become involved, I believe we will see the same with news. We could easily see free access for mass-market content funded from advertising alongside the equivalent of subscription and pay-for-view for material with a niche readership.
I certainly don't believe that the Internet will mean the death of news. Through innovation and technology, it can endure with newfound profitability and vitality. Video didn't kill the radio star. It created a whole new additional industry.
Mr. Schmidt is chairman and CEO of Google Inc.